Holy Fruit of the Himmalayas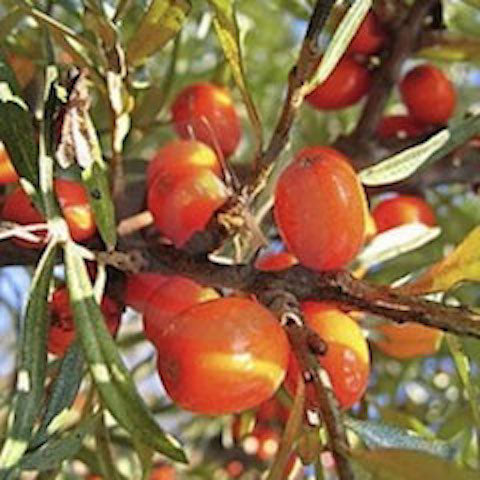 Nestled in the foothills of the Himalayas, the pristine little village of Buriokop Butsy held its Sunday market religiously. Woven mats laid across the misty pavement with yellow apples, slippers and metal dishes piled on high.  But most beautiful of all were the occasional mounds of bright orange berries, the "Holy Fruit of the Himalayas" or also known as Sea Buckthorn. It earned its name because this little berry is packed with more than 20 mineral co-factors, carotenoids (pro-vitamin A), flavonoids (antioxidants), and it contains the full range of Omegas (3,6,9, & 12) in perfect balance--when imbalanced, it impairs our ability to process the beneficial compounds and some cases contributes to obesity such as in the case of corn-fed industrial beef; though it has omega 3&6  the imbalance is so grand that it's actually harmful. This berry is perfect! In addition, it is rich vitamin B1, B2, folic acid, vitamin C (15 x more than oranges), vitamin E and vitamin K.
Because of these amazing compounds, the oil extracted from Sea Buckthorn heals wounds, restores, protects and softens skin tissue and slows the appearance of aging--not magically, but because it's a powerful antioxidant. Antioxidants, as you surely know, fight the bad free radicals, which increase wrinkles, fatigue, and give us that dreadful look. Speaking of free radicals--the bad ones, that is, because good ones fight off diseases-did you know what increases free radicals in our body?
Stress (physical and psychological)
Processed foods
Air pollutants
Drugs-- including prescription drugs
Chemicals--including those found in leading body care products
Cigaret smoke
Healing Wonders of the Sea Buckthorn
In addition to nourishing your skin, Sea Buckthorn helps cleanse your body of bad free radicals! This is indeed the "Holy Fruit of the Himalayas". To benefit from Sea Buckthorn's antioxidants and its bountiful skin nourishing properties, the fruit can be juiced, cooked or pressed with the seed to yield the magical oil. Applying the nourishing oil onto your skin is an excellent way to benefit from the Holy Fruit. Capsules of Sea Buckthorn powder can be taken internally. These are found at most health food stores. You can also find Sea Buckthorn oil quite easily but it should not be applied directly. Also, make sure the berries are grown organically. Try our Body Oil for Very Dry Skin as it has just the right amount of organically grown and fairly traded Sea Buckthorn oil.

It's all in Nature!
4 Responses
Leave a comment
Comments will be approved before showing up.